October is Car Care Month
October 1, 2020
Did you know that October is Car Care Month? Well if you didn't before, you do now. Of course, this is the perfect time to remind all drivers that as the weather begins to cool down, you should complete a thorough seasonal check up on your vehicle. Like we go to the doctor for a physical once a year, your vehicle could use that too.
In order to maximize the efficiency and life of your vehicle while maintaining one's safety, take a look at this checklist to determine your vehicle's maintenance needs before heading into fall and winter. 
1. Check the Engine
Check that engine oil level. For example, you know when you start to feel groggy from running low on energy? That's how your car feels when it's running low on oil. Plus, not maintaining oil levels will cause the engine to run less efficiently and eventually wear out.
2. Check Your Brakes
Have your brakes inspected!! – this is extremely important no matter what season it is.
3. Check Your Battery
Make sure the car battery is charged, in good condition, and tested by a trained technician. This is key in being able to start the engine, especially during colder weather (live in CNY anyone??).
4. Check Your Tires
This includes tire pressure, type, and the thread. As the temperature drops, it is natural that the tire pressure will drop as well. Also, check what type of tires are on your car, making the switch over to snow tires for the heavy winter weather upstate NY experiences might be a smart idea.
5. Check Your Lights
Check all lights. Headlights, tail lights, turn signals, emergency flashers and brake lights. If any bulbs are out, replace them. Once the snow falls, make sure to clean off your lights before driving.
6. Check Your Coolant Levels
Check the coolant levels. This should be done when the engine is cold, and if levels are low add a 50/50 solution of water and coolant. 
7. Check Your Fluid Levels
Check all fluid levels to ensure that they are at safe levels. This includes brake, transmission and power steering fluids.
8. Don't Overlook the Necessities
Lastly, make sure your car has enough windshield washer fluid and antifreeze. As well as checking that all windshield wipers are in good condition, and not covered in snow or ice before driving.
Depending on the condition of your vehicle and how well you have been maintaining it, replacing all the items on this list may not be necessary. Many of these things can also be done at home, but some should be inspected by a professional. Contact your local mechanic to make an appointment to make sure that your vehicle is prepared for the long winter ahead and will keep you safe.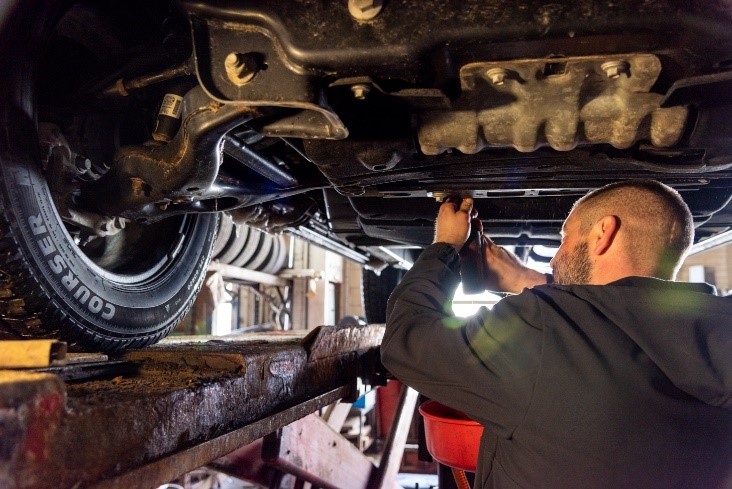 TP Brake & Muffler can help you make sure your car is ready for winter, at a cost you can afford.
Check out our Specials Here!
View All Entries